Our Technology at Your Business's Service
Technology has reshaped the logistics industry by solving many of the most complex freight issues in the sector. As an experienced transportation provider, Last Mile Logistics stands on top of the latest technology breakthroughs and possesses the competitive advantage to help you run your business as efficiently as possible.
Our online, web-based solution is called "SunConnect." It is completely visible to our partners from anywhere in the world and affords them a wide array of reporting functions. Our clients are kept, at all times, totally involved in their distribution process.
Addressing the industry challenges
Have you heard that over 50% of freight forwarders struggle to keep track of their shipments, especially during the last mile, from pick up to drop off? Also, almost 45% of them feel they need more overall visibility. These statements mean that once the cargo is on its way, many managers could feel anxious until it arrives at its destination.
However, there is no need for anxiety. By digitizing the supply chain processes, transparency increases across the whole network. SunConnect addresses multiple factors, such as route efficiency, load times, and lane assignments, among other key factors that positively affect the overall bottom line.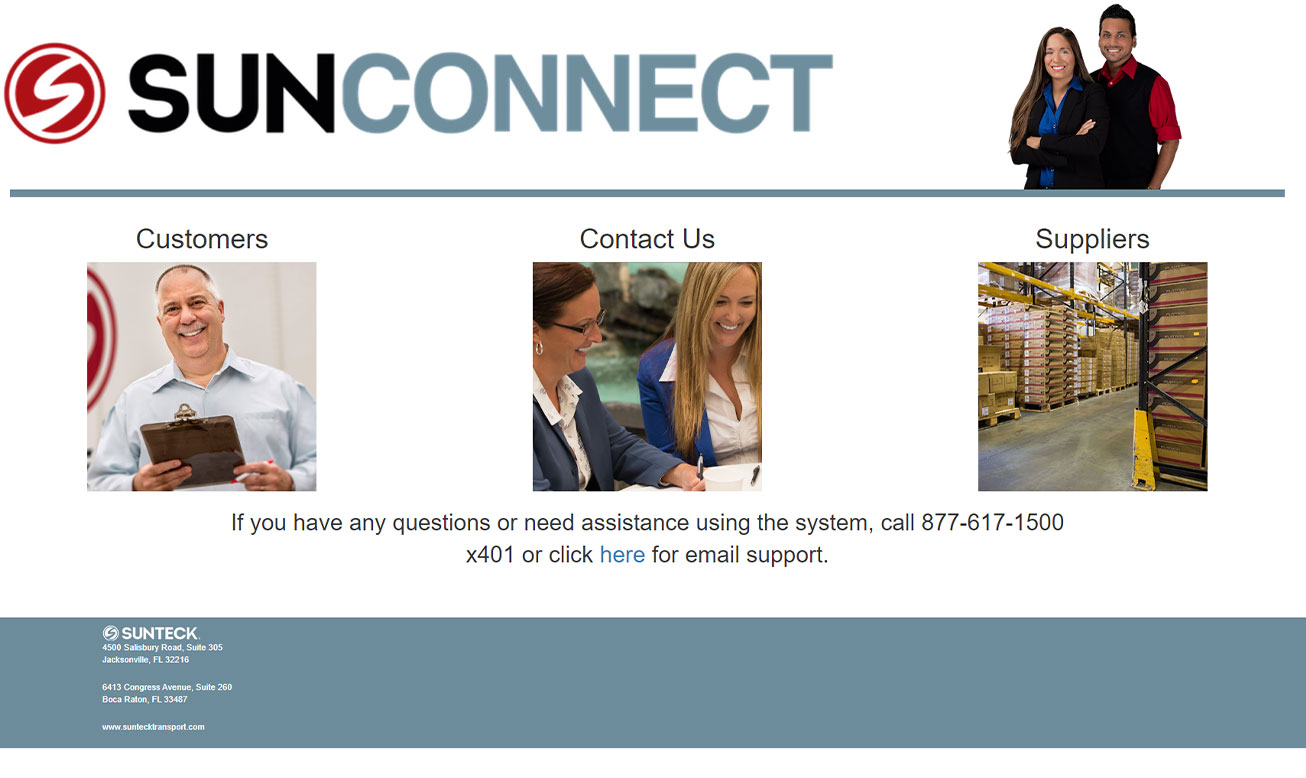 Flexible solutions to enhance your logistics processes
SunConnect will adapt to your business requirements. Our solution can benefit several processes, such as:
ASN file transfers

E-mail notification

Bar code scanning

BOL and barcode label printing

EDI invoicing

Electronic order entry

System support to our clients

Complete shipment visibility

Full track and trace via "Solar Trac"

Real-time POD updates every 60 seconds.
SunConnect addresses all aspects of your supply chain, from order placement to pick up and proof of delivery. We know that your company is unique. That's why our trustworthy and experienced professional team will help you tailor your logistics solution to your business requirements.
A cloud-first platform
Cloud computing is handy in an ever-changing industry like shipping, where vehicles, freights, and individuals are in constant motion. Cloud technology allows SunConnect to centralize the data and make it available to every user who needs it at any time.
Our solution is an end-to-end logistics software that is cloud-based, giving you final-mile visibility, partner integrations, and insights to improve your logistics processes. SunConnect helps you gain insight into your supply chain, track orders, and get status alerts to stay in the loop.
Our operations at Last Mile Logistics are heavily reliant on technology, which ensures that all of your requirements are efficiently managed, giving you peace of mind. If you have any issues, please feel free to contact us, and our team of experts will gladly assist.